Getting Here: BC Ferries • USA Ferries • Seaplane • Airplane • Helicopter • Motorcoach
Ferry Service within British Columbia
How do you get to Vancouver Island anyway? Traveling by ferry is a grand adventure for a vacationer, especially kids! BC Ferries is pretty much the only game in town when it comes to getting to Vancouver Island from the mainland and to the smaller Gulf Islands by sea. 365 days a year you can walk on or drive directly on a BC Ferry with your car, RV or semi-truck if that's how you roll. BC Ferries is one of the largest ferry operators in the whole world. They have a fleet of 35 vessels, serving 25 routes and 47 terminals between Vancouver Island, the Gulf Islands and mainland. The biggest ferries are reserved for the routes between the mainland and Vancouver Island and they are Cadillacs!! Gift shops, restaurant, multi-deck, coffee shop, lounges, wi-fi, and the route to Victoria has a killer buffet! (Seriously, it almost killed me, it was so good!) Sometimes you can get lucky and see whales or porpoises swim by.
It's safe to say that BC Ferries has you covered when it comes to traveling by sea to Vancouver Island.
Yes, with all of those terminals with double names and routes it is normal for first time visitors to be confused. Let a couple of locals help you with some of the initial confusion of BC Ferries.
Let's take a look at 4 of the main things you need to know to get you started when traveling by sea to Vancouver Island:
1. Make a Reservation
You can make your reservation on the BC Ferries website for the main ferry routes. That is, if you know what ferry for sure you are going to catch. You'll be guaranteed a spot as long as you arrive on time. If you don't make a reservation, you get directed to the back of the line to play the waiting game to see if there is room for you and your vehicle. If you are walking on, they will always have room for you.
2. Main routes to Vancouver Island from the mainland:
• If you are close to West/North Vancouver you will want to go to the Horseshoe Bay Ferry Terminal just outside of the city of Vancouver. It's hard to believe this beautiful terminal is only 10 minutes outside such a large metropolitan area as Vancouver. This ferry will take you to a terminal in downtown Nanaimo (also known as Departure Bay).
• Tsawwassen ferry terminal is located 40 minutes outside of downtown Vancouver. This is the largest of all BC ferry terminals with multiple destinations including Nanaimo (Duke Point, which is a ferry terminal 10 minutes South of Nanaimo), Victoria (also known as Swartz Bay or Sidney), Salts Spring Island and other Gulf Islands.
3. BC Ferry Schedules
Ferries to Victoria are mostly every hour, ferries to Nanaimo are mostly every 2 hours and ferries to the Gulf Islands are random. Because of the frequency of departures, you'll be sure to find something that will fit your schedule. Review the BC ferry schedules and get ready to sail away into Island time.
4. How much does this all cost anyway?
Well… too much! It's pirate robbery! But they kind of have the corner on the market when it comes to transporting people and cars to Vancouver Island by sea, don't they?
Here is the quick break down of the rates for the main routes to Vancouver Island (2015):
• Passenger: 12 years old and older $16.25
• Child: 8-15 years old $8.15
• Under 5 years old: Free!
• Bringing your vehicle will cost you $53.25 more. (extra length rate over 20 ft, per foot $6.10)
• Motorbike: $26.25
Simple right?
Okay, I know, it's still probably confusing…. not to worry, feel free to contact us or comment below and we would be glad to help further. Or visit our friends at BC Friends online. 
This BC Ferries route map will help orient you. Look for some of the terminal names we listed above. (Click on map for full size)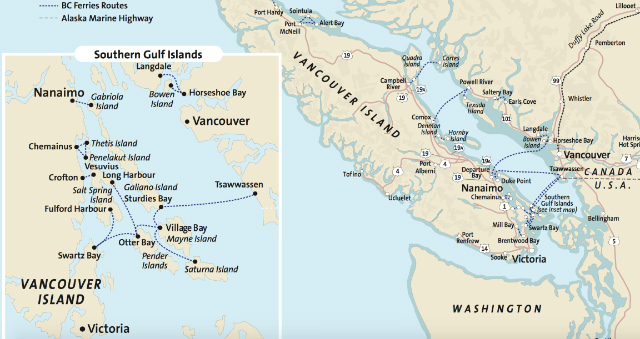 Have questions or do you have another piece of helpful info to add to our BC Ferries to Vancouver Island guide? Start the ball rolling and comment below!