History comes alive at Fort Langley National Historic Site. Try your hand at barrel making, watch a blacksmith in action as you step into the year 1827.
---
We've driven by a hundred times and never stopped to see what Fort Langley Historic Site is all about.
That's how many things are around us, isn't it? Well, that was true for the Traveling Islanders also, until we finally stopped and discovered a real gem.
If you are looking for a Vancouver area attraction for families you've found a good one to add to your list of things to do.
You're never too old to step back in time and enter into an interactive history lesson.
And Fort Langley specializes in just that.
We were wondering if our kids were going to enjoy the experience and our answer came immediately as they ran through the entrance of the fort and dove right in.
Four and a half hours later, we couldn't have been more right. Often kids find history a bit boring. But at Fort Langley National Historic Site, history is enchanting.
Learning here comes naturally.
And it comes easily for all ages.
With interactive displays, we learned about barrel making as well as blacksmithing. We tried our hand making small barrels, but it's much more difficult than it looks.
And let's just say right here, that the whole Traveling Islander family is glad that our children are not apprenticing as barrel makers at Fort Langley. I mean, what 8 year old wants to make 150 barrel boards BEFORE breakfast?!

But what we all loved most, we found in the blacksmith shop.
Several times throughout the day, someone comes into the shop, lights the coal fire and works his magic with the metal. As he heated the metal, he taught us about life for the blacksmith.
As he pounded and shaped it, we watched it transform into something useful.
When it was all done, each item became available for trade for all of us watching. He is a tough bargainer but his weakness is treats, so come prepared!
It was so fascinating, the kids watched it THREE times.  In the end, we came home with a hook and candle holder. No matter your age, you will enjoy watching (and dare I say, learning) about life nearly 200 years ago.
A Little History On Fort Langley National Historic Site
The Hudson's Bay Company built the fort in 1827 as a trading post. Built along the Fraser River, the Fort found the perfect location for trades. Originally the fort was built to trade for coveted beaver pelts to send to England for top hats.
But as the First Nations people were more of a fishing and harvesting people rather than a hunting people, a market for salmon, cranberries, and potatoes was found in Hawaii, California and Alaska.
As times changed and gold was found in the river, over 30,000 people moved to the area. Fort Langley just changed with them. Different commodities were exchanged and the Fort continued to provide for the people of the area.
The region was rich in resources along the Fraser River, and to prevent an American takeover, the British government quickly proclaimed it the Colony of British Columbia. That's right. British Columbia officially started at Fort Langley.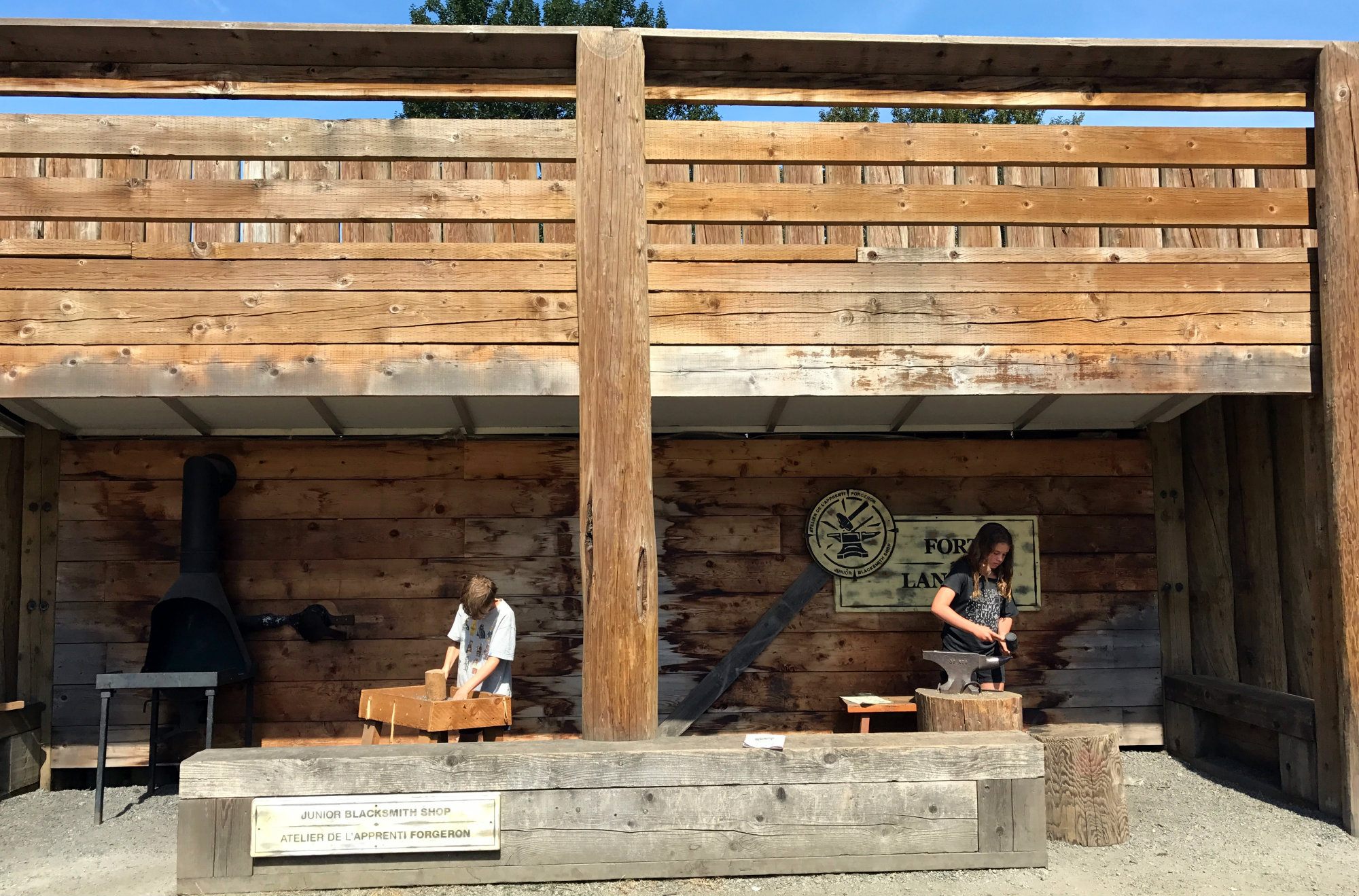 Fort Langley National Historic Site Is Worth A Visit
There is so much more! Pan for gold, feed the goats, shoot a bulls eye at the archery range, watch a live gunfire demonstration and you can even spend the night with your family in a small tent cabin right in Fort Langley.
You can stop wondering whether Fort Langley is worth the visit and come explore for yourself. And do it soon because admission is FREE (!) this year celebrating Canada's 150th.
---
Fort Langley National Historic Site
Website: www.pc.gc.ca/en/lhn-nhs/bc/langley
Hours Of Operation: Every day, from 10 am to 5 pm • Closed, Dec. 25, 26 and Jan. 1
Phone: 604-513-4777
email: [email protected]
Rates: Free for 2017 in celebration of Canada 150!
Directions To Fort Langley National Historic Site: