A quick beginner's guide to get you on your way to surfing in Tofino. It's super easy to rent all you need for a fun day out in the waves!
---
The kids were off like a jet with our Golden Retriever leading the way, rocketing towards the blue ocean waters of the Pacific Ocean.
We were all running across the beautiful sandy beach eager to dive into the waves head first. The minute our toes touched the water, it hit me like a thousand knives poking my body.
This water was FREEZING!
Ahhhhh!!!!
We immediately ran out of the water faster than we had run in. We knew it would be cold, but not that cold.
Quick Vancouver Island travel tip: West side of the island is absolutely freezing year round. East side is nice and warm during the summer. Warmest island water can be found at Rathtrevor Beach. 
Perplexed as to what to do next, we spent the day splashing around in the ocean up to our ankles and playing in the sand. It was fun and all… but I couldn't help but be a little envious of that other wetsuit-wearing family riding boogie boards all afternoon.
That's when I decided I will never go on a Tofino family vacation again without renting wetsuits and boogie boards.
And that's exactly what we did on our latest Tofino beach vacation.
In fact, the very first stop we made before checking into our beach cabin at Crystal Cove Resort was at  Long Beach Surf Shop where we were fully outfitted for some cold water surf fun. This time we would do it right.
Long Beach Surf Shop was the perfect place in Tofino to rent our wetsuits, boogie boards and surf boards.
The staff were super friendly, especially with our kids. We all shouted out our height, weight and foot size to the staff and before we knew it we had everything we needed in a bin ready to go.
I went outside to find the staff finishing up tying down the surf boards to the roof of the family minivan. I have no idea why I was so intimated about renting surf boards and wetsuits.
I thought it was going to be this big ordeal, when it was the simplest thing ever.
Renting the surf gear turned out to be the easy part. The hard part is actually getting into the wetsuit.
My kids at the time were 10, 8 and 7.
But in reality, when putting on their wetsuits, they might as well have been about two years old. Getting kids into thick neoprene is akin to stuffing a watermelon covered in velcro into a wool tube sock. No, I haven't ever tried that, but I'm pretty sure it may have been easier.
See for yourself! 
Gretta claimed to have a little bit of an advantage because of something about pantyhose and how you put those on. I didn't know what she was talking about so I just grabbed, pushed, shoved, yelled in desperation, and muscled my way through.
Actually, come to think of it it… it was exactly like how I used to dress them as toddlers.
All our wetsuits had names on the front so you can keep track of which one is yours.
My son was ecstatic that his was named HERCULES! Me on the other hand? I got stuck with LURKER. And of course the kids decided these were all our super hero names so they joyfully and loudly warned each other of incoming attack waves by yelling out the names.
"Hey LURKER! Here comes a wave!"
It just doesn't have the same ring to it as HERCULES.
Anyway, we all hopped into the van dressed in wetsuits and drove from our base at Crystal Cove Beach Resort to just five minutes down the road at North Chesterman beach.
Why North Chesterman? The best way to know where to take your family to surf in Tofino is just ask the experts at Long Beach Surf Shop. They'll know the surf conditions and what's best for your family.
Or if you have local surf friends, just ask them. Our friends at Tofino Surf Adventures they gave us the insider tip on where to go on the days we visited. (By the way, if you need surf lessons, this company is the tops. We highly recommend taking surf lessons for your first time on the waves, it'll help you get started off on the right foot.)
We had an outstanding day playing in the surf.
The reactions and squeals coming from our kids were priceless. And this time when we all dove into the water we simply felt the slow seepage of cold with our bodies warming it right up.
For adventurous and active families, surfing in Tofino is one of the top Vancouver Island vacation activities by far. Don't miss this!
Bonus Tips For Surfing In Tofino
1. Surf Where Other Beginners Are Surfing.
Tofino couldn't be better for beginner surfers. Long, gradual, full-sand beaches everywhere give Tofino the safest beaches on Vancouver Island for beginner surfers.
2. DO NOT PEE IN YOUR WETSUIT!
That should be self explanatory… no matter where you rent your wetsuit, go ahead and take that quick sniff just to make sure it's super clean. And for the love (!) instead of peeing in your wetsuit just take the time to run up into the bush and do your business in there. A few of the beaches do have bathrooms with outdoor showers which is convenient at the end of the day.
3. Vaseline Is Your Friend
This tip absolutely saved our second day of surfing. The boys got a wetsuit rash under their armpits and behind their knees after the first day. They were in tears when trying to put on their wetsuit and we thought it was all over. We applied a little bit of vaseline, but the rashes still hurt. So, in a last ditch effort, I grabbed a ridiculous amount of vaseline, said a prayer, and lathered heaps of the gooey jelly on the rash spots and voila! our surf day was saved!
4. Bring Lots Of Water And Snacks With You.
Surfing and playing in the waves takes is a ton of fun, but it uses a lot of energy. Kids need to break up their play sessions with power snacks and water. Our kids would do about an hour at a time with breaks and warm up time. We were pretty much done after 4 hours of play.
5. Don't Worry About The Cold Or The Rain!
Sure, it's a lot nicer if the sun is out when you are getting in and out of your wetsuit… but once you are in your wetsuit the water feels the same whether summer or winter. That's what makes a Vancouver Island vacation so fun. You can surf year-round! And people do it all the time here. Be safe, check the wave conditions, especially during the winter storm season.
6. Take Surf Lessons.
Surfing is a lot harder than it looks. We are so thankful that our first time surfing as a family we went with Tofino Surf Adventures. Everyone got up on the board and had a positive experience. We felt safer with the kids and it was a lot less stressful on us parents to have a professional with us. Completely worth it.
7. Boogie Boarding Is Just As Fun And Much Easier.
If your kids are little than just get them boogie boards if you aren't taking lessons. They will have an absolute blast and learn lots about catching waves. Super easy to carry from the car to the waves too. We rented Tofino boogie boards for each of our kids and also rented a Tofino surf board for Gretta and I to play on.
---
Tofino Long Beach Surf Shop
Phone: 250-725-3800
Web: www.longbeachsurfshop.com
email: info@longbeachsurfshop.com
Prices:  Prices and rates for 6 hours, 24 hours, and 3 days.
Directions for your Tofino Surfboard Wetsuit Rental: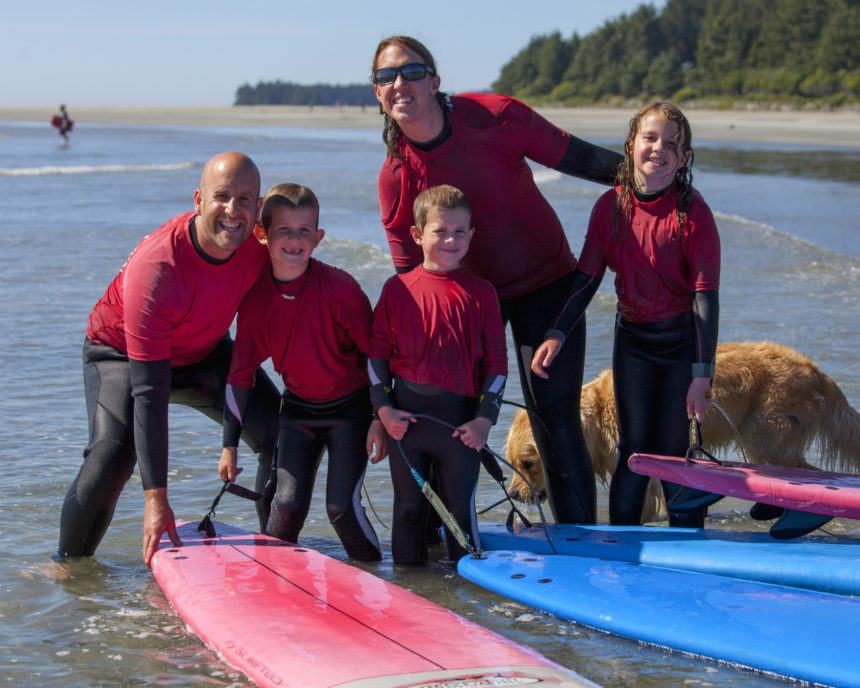 Tofino surf lessons that give you the most amount of time in the water surfing and having fun! Ready to catch your first wave? Let's get you out there surfing today! We have the perfect surfing lesson package.