Adventure awaits you in the North Vancouver Island region. Rugged and picturesque with some of the best whale watching on Vancouver Island.
---
When in beautiful, picturesque Telegraph Cove, adventure awaits under every ripple.
Our recent trip brought us to Prince of Whales for an afternoon exploration around Northern Vancouver Island waters whale watching and more.
Our Prince Of Whales captain exuded excitement as she shared about an earlier sighting of orcas. Transient orcas, meaning orcas who travel up and down the coastline from Alaska to Hawaii, were nearby!
Normally June is a bit early for orca whales, so it was easy to see why our captain and crew buzzed with energy.
As soon as our safety talk completed, we ventured into the great channel of protected Pacific Ocean waters heading northwest in search of the orca pod.
With sun shining and blue skies overhead, there was no place I'd rather be than sitting at the back of the whale watching boat feeling the wind on my face. Of course the whole scene was made even more perfect with my entire family surrounding me as well.
Finding ways to unplug and unwind these days as a whole family is challenging. We were all looking forward to a great adventure together on the ocean water.
Our Vancouver Island whale watching boat was a good size. Forty people moved around the entire boat, but it never felt crowded. Large, open windows on the lower deck and wide open roofless upper deck made for plenty of viewing space no matter when we decided to sit.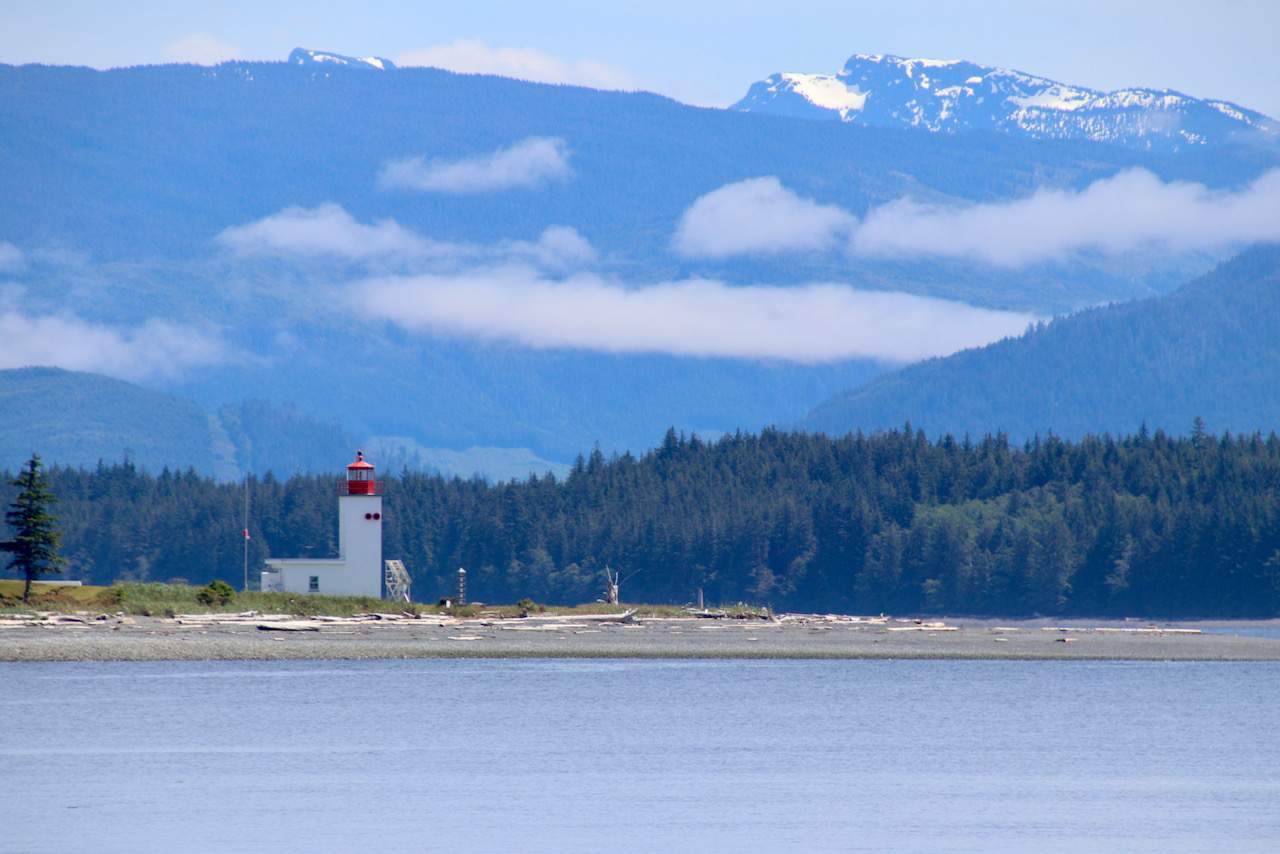 There it was…the glorious wonder of not one, or even two, but four tall dorsal fins rising from the ocean water.
We were just outside the island town of Alert Bay where this particular transient orca pod was found.
The naturalists on board the Prince Of Whales boat were phenomenal at teaching us all about this pod. In fact, they carry a binder that holds the information of all the orca pods that call these waters home.
There are family trees that span decades. We learned that each whale contains on its dorsal fin a picture or "thumbprint" if you will that is unique to that particular whale.
This is how they are identified and tracked. Biologists are able to record sightings and learn the health of the orca pod as they share information across international lines for the betterment of the whale community.
On our Vancouver Island whale watching tour we were taught that every pod, yes every, speaks their own dialect of orca whale.
We knew all about echolocation (we've watched "Finding Dory" as a family several times), but what we learned is they don't only make noise when hunting.
There's a song they all sing.
When a male from one pod leaves to find a mate with another pod, he can relocate his family simply by the unique dialect he speaks. It's rather fascinating.
When discovering whales, a reverent silence covers the passengers. We all understand we get to witness something extremely special when the pod reveals itself.
Come away on a kayak adventure with North Island kayak and immerse yourself in one of the most picturesque places on the planet! COVE COMBO – SAVE 20% off when you book a 2 or 4 hour guided kayak tour & a whale watching adventure!
Every 5 minutes or so, the four orcas surfaced with fins pointing to the sky. After several breaths, they disappeared back under the water.
Only then would we all speak again. Yet, even as we talked everyone kept their eyes focused on the water in anticipation for the fins to appear once again.
Because our Vancouver Island whale watching vessel was so expansive, all ages easily find joy whale watching.
From small children to the oldest grandparent, we all experienced the wonder and excitement of discovering whales. It was a wonderful and peaceful outing for our family and even our kids, who are getting older now, enjoyed it very much.
Count on guaranteed wildlife sightings on every Vancouver Island whale watching tour!
Exploring ocean wildlife on Vancouver Island is a different experience every time. As we said goodbye to this small orca whale family, we continued on our journey and spotted otters, more eagles than we could count and enjoyed the spectacular beauty that is North Vancouver Island.
Every trip is an adventure.
Each time nature surprises us with her diverse beauty. Whale watching never gets old. It's always a worthwhile way to experience life together as a family.
Traveling Islanders Tip: Later Summer in the Vancouver Island whale watching season there is a good chance you'll be delighted by both orca whales and humpbacks.
While in Telegraph Cove we highly recommend checking out North Island Kayak as an add on to your whale watching tour. Or how about a Vancouver Island grizzly bear adventure in the Great Bear Rainforest!
Spending the night and enjoying Telegraph Cove pub and Killer Whale Café only makes it that much better.
---
Prince Of Whales – Whale Watching Tours
Prince Of Whales Website: princeofwhales.com
Cost: Check out their latest costs for a Vancouver Island whale watching tour
Locations: Prince Of Whales operates in Vancouver, Victoria, North Vancouver Island and Port Renfrew on the South East side of Vancouver Island.
Directions To Prince Of Whales at Telegraph Cove in North Vancouver Island:
While our experience with Prince Of Whales as resident Vancouver Island travel bloggers was complimentary our thoughts and opinion our own as always.