Don't make the mistake of driving directly to Tofino without seeing these must-stop attractions along the way. Here's a list with some of our favourites!
---
You know what they say… it's not all about the destination it's about the journey.
That's no more true than on the road trip to Tofino on Vancouver Island.
Along this outstanding 316 km stretch of island road from Victoria to Tofino, you could take two weeks to get reach Tofino. And still, you would not have seen all the sights and experienced all there is to do.
Yes,two weeks is unrealistic, so here's our guide to quick stops along the way. Your drive will be memorable and not just a boring car ride.
It takes about 4 1/2 hours of straight driving to reach Tofino from Victoria. You'll want to start first thing in the morning to have lots of time to cherish this fantastic journey.
Pick And Choose From These 9 Quick Must-Stop Attractions Along The Road To Tofino:
In order of driving from Victoria to Tofino
Niagara Falls
How could thousands of people drive through Goldstream Park just outside Victoria and not realize the hidden gem located inside?
That's the beauty of hidden gems I guess. We don't see them at first glance. Goldstream Provincial Park is home to one of Vancouver Island's most beautiful and accessible waterfalls. I promise, it will not disappoint. There is the matter of a secret tunnel, but with our help you won't have any problems finding Niagara Falls on Vancouver Island. 
Time: Depending on your hiking speed, and how mesmerized you get by majestic waterfalls plan at least 35 minutes for this quick-stop. 
Quick-Stop Details for Niagara Falls (Goldstream Park) Consider adding a quick waterfall hike on your list of quick things to see and do on the way to Tofino. 



Kinsol Trestle
Vancouver Island is known for many things: whale watching, mountains, beaches, Victoria, and apparently one of the world's highest train trestle bridges.
I know! Who would have guessed it?
Completed in 1920, its dimensions measure 44 m (144 ft) high and 188 m (617 ft) long, making it the largest wooden trestle in the Commonwealth and one of the highest railway trestles in the world. I don't know about you, but if I'm hiking, I'd like a nice reward at the end. You know, like a waterfall, a beach, or a mammoth bridge!
Time: Depending on your hiking speed, an hour and a half. 
Quick-Stop Details for Kinsol Trestle – A quick hike with a unique attraction for your list of quick things to see and do on the way to Tofino. 
Rathtrevor Beach
Often rated on the top 10 list of beaches in Canada this beach is worth a quick stop. The main reason we love Rathtrevor Beach is that it's wonderfully safe for kids. And I can't say for sure, but it's possibly one of the warmest ocean beaches in all of Canada.
So if you have kids and you aren't planning on renting wetsuits in Tofino to brave the arctic waters, Rathtrevor Beach is the perfect stop for a little beach fun and a picnic lunch.
Time: Parking lot is right by the beach, but depending on the tide it could take a little bit of a walk to get to the water. It's a crazy low-tide beach! 
Quick-Stop Details for Rathtrevor Beach – Consider adding a beach day on your list of quick things to see and do on the way to Tofino. Although this will require a little longer of a visit. 
Parksville Kids Playground (Young Families)
The largest and most extensive playground on Vancouver Island can be found at the Parksville Community Park. If you are traveling with young kids, this is perfect stop for you.
Grab lunch to go from Subway in town or purchase a bite to eat from the food trucks at the park. Then plant yourself here for an hour of park fun and a picnic lunch. The kids will get all their wiggles out in no time!
The playground is right by the beach so you could hit up two attractions in one location on this quick-stop.
Quick-Stop Details:  Google Map Directions.  – Quick things to see and do on the way to Tofino. 
Englishman River Falls
Quick, beautiful and accessible. Park your car 5 minutes from a gorgeous waterfall, hike onto the bridge, and take it all in as the water rushes beneath you. If you are looking to stretch your legs then take the loop trail to the lower falls before heading back to your car.
Time: A 20 minute stop to see the main falls and an hour to do a quick loop hike to see upper and lower falls. 
Quick-Stop Details For Englishman River Falls – Quick things to see and do on the way to Tofino. 
Little Qualicum Cheese Works
We visited Little Qualicum Cheeseworks and saw a robot milk a cow, a baby calf less than 12 hours old, and learned that happy cows produce more milk. It was a great FREE family day.  Well, except for the cheese we just couldn't resist buying. Lots of other farm animals to enjoy as well.
Time: Plan a minimum of an hour for this visit.
Quick-Stop Details For Little Qualicum Cheese Works – Quick things to see and do on the way to Tofino. 
Goats On The Roof In Coombs
This is where to stop and grab a bite to eat, an ice cream to devour, and see the whimsy of Vancouver Island. During the summer months goats actually roam a grass covered store rooftop and add to the charm of this small shopping area.
If you're looking for that quintessential unique Island gift, this is where you will find it. And while you're shopping, your kids will probably name all the goats and ask if you can start growing grass on your house's roof. Careful they want a couple four-legged, grass-eating friends of their own.
Time: It's up to you and how much you like little shops, if you want ice-cream, a bite to eat or watching goats on the roof! 
Quick-Stop Google Map Directions to Goats On The Roof in Coombs. – Quick things to see and do on the way to Tofino. 
Cathedral Grove
Nowhere else on Vancouver Island are old growth Douglas fir trees so easily accessible than at Cathedral Grove. And you really can't miss it. The highway literally splits this epic forest walk in half and you can park your car on the side of the road to stretch your legs. Enjoy the feeling of walking among trees over 800 years old and get a picture of how small you are in comparison to these ancient giants. Parking can be limited during the summer as visitors come from all over the world in car and tour bus alike.  It's a must-stop, so be sure to plan a visit on the way to Tofino.
Time: Plan a good 30 minutes to walk through the forest trails and take it all in. The perfect addition to our list of quick things to see and do on the way to Tofino. 
Quick Stop Google Map Directions to Cathedral Grove. 
Wally's Creek
Out in the middle of nowhere along the road to Tofino you'll find Wally's Creek. On the last half of your trip to Tofino, look for a car pull-out area on the right side of the road. During the summer you can't miss it. If there are no cars parked at the time, just look for our Island version of the padlock love fence.
What's the attraction?
Swimming in the summer is a big one.  Or just get out to stretch and walk along the smooth rock bed and take a peek at the rushing river. Be very careful as the rock can be quite slippery during wet weather. During the Spring you are almost guaranteed to see tadpoles.
This was the location of my kids first interactions with the baby frogs and it was so much fun.
Time: This stop is as long as you want to make it since it's right by the road. We explored around for about 30 minutes. Perfect for our list of quick things to do and see on the way to Tofino. 
Save Time For The Unexpected!
You never know what you might see along the road to Tofino. BEAR! No, that's a rock. No really that's a BEAR!
That was our lively conversation in the car when I spotted a black bear just off the road as we were in our last part of our journey to Tofino. Spotting a black bear from the road on Vancouver Island is quite rare, but we have proof it does happen.
As always be careful and use common sense when in close proximity to wild animals. Thankfully, this black bear was a good distance away from the road.
Didn't see a black bear on the way to Tofino? Not a problem! Book a black bear tour in Tofino and you can watch them from the safety of a boat as you explore the Clayoquot Sound of the Pacfic Rim.
How did we do? Share your favourite quick must-stop things to do and see on the way to Tofino in the comment section below.
More fun Canadian Road Trips in Canada!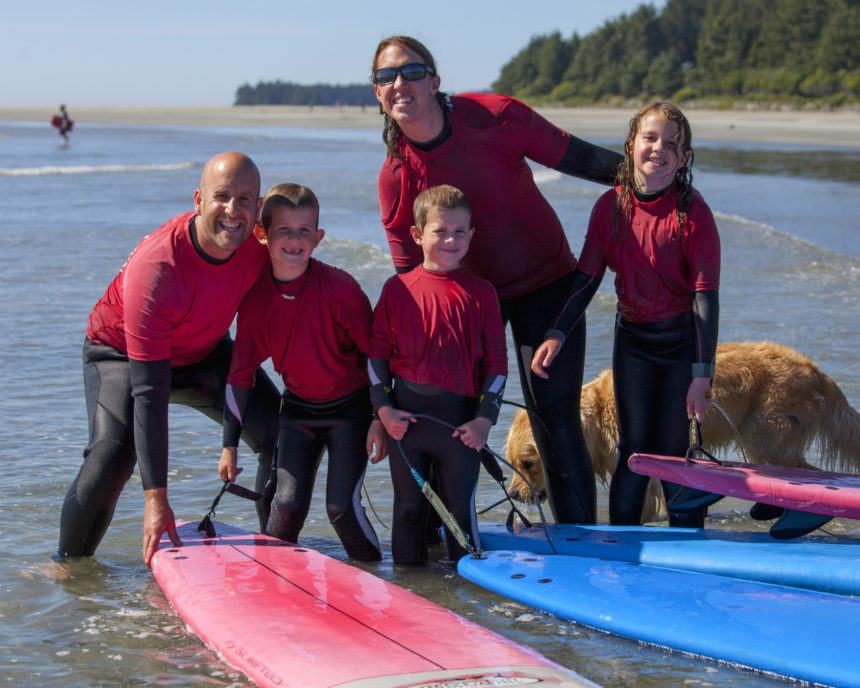 Tofino surf lessons that give you the most amount of time in the water surfing and having fun! Ready to catch your first wave? Let's get you out there surfing today! We have the perfect surfing lesson package.