'Once' is a musical theatre performance that guarantees a fantastic night at the Chemainus Theatre! A guy meets girl story that is nothing like you've ever seen before.
---
Featured Image: Girl (Allison Lynch) and Guy (Daniel Kosub) have a "chance encounter that changes everything in the must see show "ONCE" at the Chemainus Theatre". (Lexi Bainas/Citizen)
As the new 2018 season opens, Chemainus Theatre Festival knocks it out of the park with "Once."
Having no idea what to expect, no clue what this story was about, I must say, I was wonderfully caught up in the beautiful portrayal of what it means to have someone believe in your dream.
After a Guy (Daniel Kosub) and a Girl (Allison Lynch) have a chance meeting in a Dublin pub, their shared love of music begins a beautiful relationship. Having given up on his musical dreams, this Czech woman encourages him to move forward and rediscover his passion.
As a romance builds between them, can they overcome the worlds apart lives they come from? The feelings in Once are deep, the indie/rock/folk music is rich, and the storyline of love and passion will ignite within you both your appreciation and hope of love. "Don't worry guys, it's not just a chic flick! Once is for everyone," says Jay.
With extraordinary music and talent, "Once" takes a different spin on what we typically know as a musical. It's no wonder this show is the recipient of 8 Tony Awards including best musical.
The insanely talented cast from across Canada doubles as the orchestra throughout the show. Drums, guitars, violin and viola, mandolin, cello, piano and even an accordion, this music is fantastic!
Each time I heard a song, I wanted to lock it into my brain as my new favourite – the song I wanted to be sure and tell you about.
But then I'd hear the next one.
And the next.
By the time the show ended, I couldn't possibly choose a favourite. Some made me want to dance a jig while others, with their intricate harmonies, brought tears to my eyes.
Stunning.
And the extravagant and simultaneously simple set design perfectly lays the backdrop for this beautifully written story. Once is surely a show you don't want to miss.
You can also find Daniel Kosub in the lobby after each performance and purchase some of his music. Stop by and say hello like we did. He's quite friendly. Jay just kicked himself for not asking him to give him some thick Irish accent lessons, that would have been fun!
Get sneak peak of the cast in action on the Once Chemainus Theatre Facebook video. 
Purchase your Chemainus Theatre tickets now before this show sells out! I'm predicting Once to be a very popular show andsSeats are already appearing as "limited" online. Show ends March 10, 2018.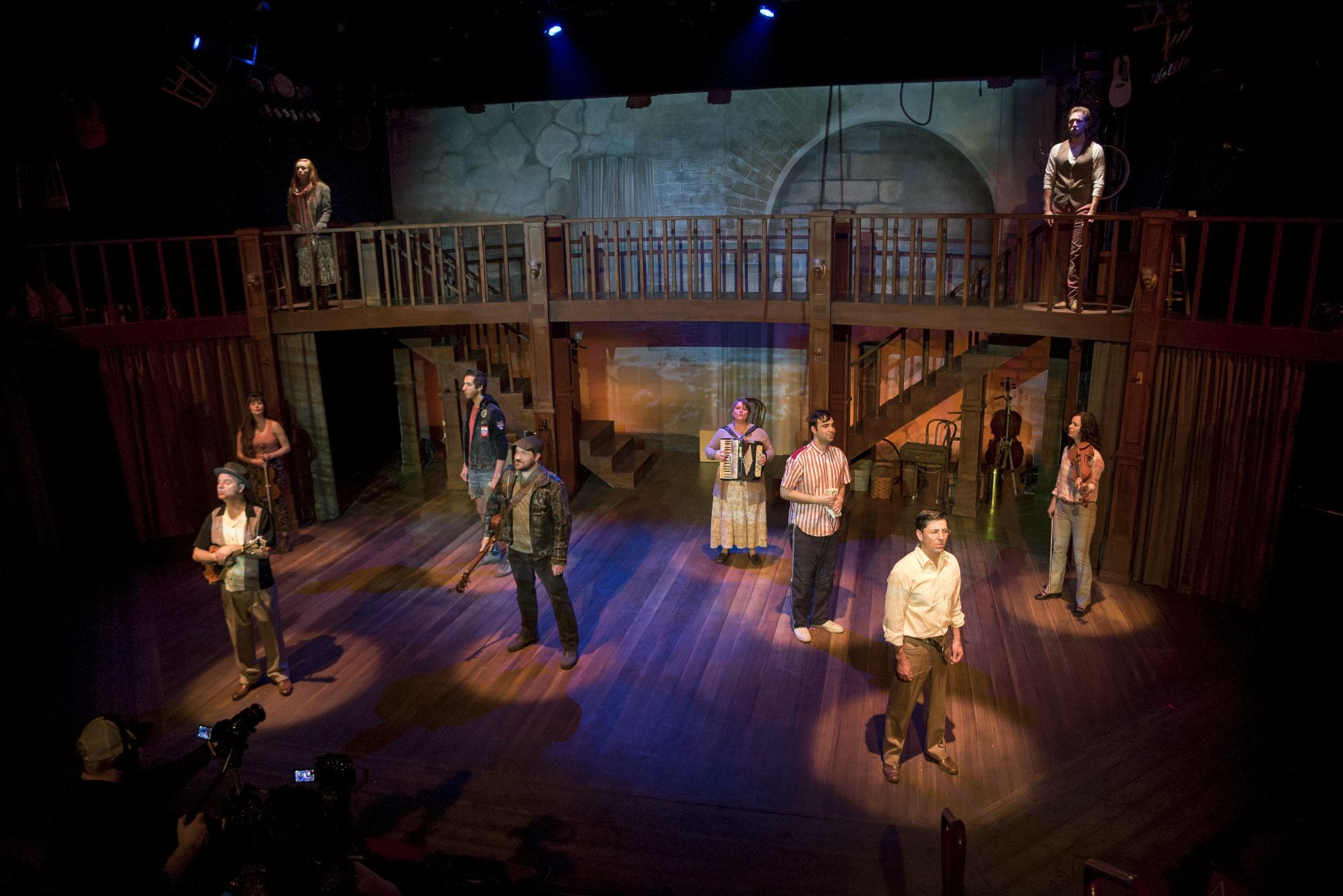 They're changing things up over at the Playbill Dining Room at The Chemainus Theatre.
If you've ever eaten dinner before a watching a show at Chemainus Theatre, you're familiar with the Playbill's fantastic buffet. But this season, they're trying something new, and I gotta say, I really like it. While the salad bar and decadent dessert array remains, the entree buffet line has been replaced with "table d'hote."
What is that you say?
It means you get to order your entree from a selection of four or five pre-determined entrees. Prime rib, Braised Lamb, Arctic char, mushroom risotto…delicious and worth the wait. While you may love a good buffet (and really, we all do) this change is refreshing and even slowed us down a bit more, which we loved.
Dinner at the Chemainus Theatre always makes the night that much more rich.
---
MAKE It A ROMANTIC THEATRE GETAWAY AND JOIN IN THE ROMANCE OF 'ONCE'
A fully packed Chemainus Theatre Luxury package includes theatre tickets, a pre-show lunch or dinner in the Playbill Dining Room, breakfast and accommodations in the Best Western Plus Chemainus Inn all for only $122 per person. This option makes it easy for those coming from farther away as the evening show concludes around 10:15pm