Seeing these mammoth creatures so smooth, so close. I had to keep telling myself this was real. Our Tofino whale watching trip was unbelievable.
---
Did you know that bald eagles mate for life?
Or that stellar sea lions sound like a growling bear? or that a grey whale is the only whale without a dorsal fin?
Well, I didn't.  At least, not before my family went on an amazing Tofino whale watching excursion with West Coast Aquatic Safaris.
It had been many months since my family had tried something new.  And I'm not talking about eating tofu or escargot.  No, I'm talking about WHALES.
Our latest trip to Tofino, took us out into the ocean.  I'm not sure exactly what I was expecting, but…
I do know that what we experienced far surpassed anything I could have imagined.
I'm pretty sure part of me thought we would get in a boat, head out to open water where we would sit and wait for the whales to surface in hopes that we could get a picture of it.  I couldn't have been more wrong.
We were greeted by friendly Captain Todd and as we left the harbour, he began telling us incredibly interesting facts about the area.
I'm a sucker for facts that help me understand people better or for stories that help an area come to life, like learning about the Opitsaht (oh-pit-sat) people who have lived just across Tofino Harbour for a few thousand years, and about the density of the coastal rain forest that surrounds Tofino (I mean, seriously, it's more dense that the Amazon jungle!)
My kids? Well, they're different. They weren't as interested in trivia. Instead, they absolutely loved the boat and everything about it.  Their squeals of delight were contagious for the rest of us adults aboard.
Captain Todd drove us around islands telling us the story of a lighthouse, slowed down and pointed out stellar sea lions and otters to us, drove us right by a pair of bald eagles basking in the sun while looking for their lunch…all of this and we hadn't even made it to the spot where the whales were hanging out.
All of this could have been a great experience by itself, but there was so much more.
The adventure just kept going…this was a whale watching excursion after all.
After a few minutes of waiting near the Long Beach area, our beloved whales appeared.  And they certainly did not disappoint.  It was grey whales for us on this particular excursion.  We saw a mother and her calf breech together in rhythm.  "One…two…okay this will be the big one,"
Captain Todd would say and we would all poise with our cameras to get a glimpse of the tail before the two would head to the ocean floor for a mouthful of shrimp. It was wonderful.
Seeing these mammoth creatures so smooth, so close. I had to keep telling myself this was real.
Disclaimer – We did not see whales soaring through the air on our trip, mostly whale tales and humpbacks coming up for air which was amazing enough. We thought you would enjoy these pictures more of another West Coast Aquatic Trip. 
We stayed out there watching them and waiting for more for over an hour.
Time traveled so incredibly fast on our Tofino Whale Watching trip. We visited with our partners on the boat from Scotland, looked for more sea life, told stories and loved, absolutely loved, being together on the sea.
As we sped back to the harbour, wind blowing hard on my face, I looked around trying to capture it all. Remember it all.  This was one of those "forever memories" with my family and I didn't want to miss a thing.
Three Things We Especially Enjoyed About Our Tofino Whale Watching Trip With West Coast Aquatic Safaris:
1. Our Captain
Our captain with West Coast Aquatic Safaris made this trip special for us.  He understood the balance between giving us interesting information and history and allowing us to experience the wonder and awe of everything.
2. Fun For The Whole Family
Being in a boat where we could walk around made it extremely comfortable for our kids.  They were allowed to explore all over and enjoy different views as we rode through the water. There was a bathroom on board! That would have gotten a little awkward with me holding my kids over the edge of the boat without it!
3. Peace Of Mind With An Impeccable Safety Record
They are Transport Canada certified which means important things like having an emergency life boat attached among other extra safety requirements. There are just a few tour companies with this certification in Tofino.
If you are looking for a tour company for your Tofino whale watching trip or bear watching experiences choose wisely! It's a once in a life-time experience for many and you want it to be a trip of a life time for all the right reasons.
Note: You are guaranteed to see whales with West Coast Aquatic Safaris or you get a certificate for another experience. Keep in mind that you are not guaranteed to see breaching whales. We spotted many whale tales going for a dive or surfacing for air and had a wonderful experience nonetheless.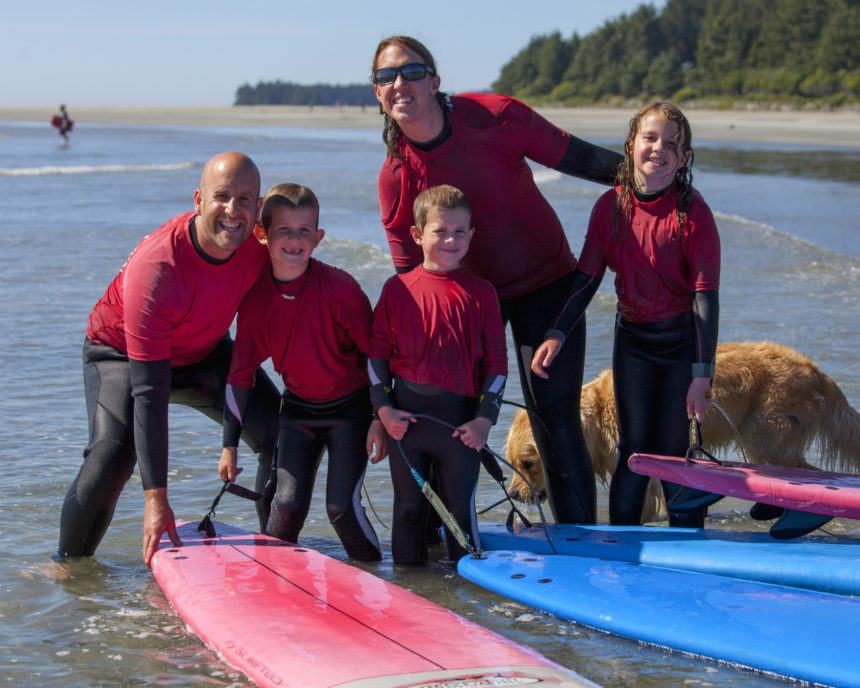 Tofino surf lessons that give you the most amount of time in the water surfing and having fun! Ready to catch your first wave? Let's get you out there surfing today! We have the perfect surfing lesson package.