A new adventure awaits you every day on a Mexican Riviera Carnival Cruise. One of the best parts of a cruise has to be the shore excursions! See why.
---
One of the best parts about a Carnival Cruise has to be the shore excursions!
A new adventure awaits every day as we ventured from our cruise ship.
It was so comforting to know that at the end of the day we could always look forward to returning to the comforts of our Carnival Cruise ship. What a fun experience to have our all-inclusive hotel/cruise ship stay the same, but the vacation destination keep changing.
On our Carnival Mexican Riviera cruise we made three port stops over the course of our 7 day cruise. We started our cruise from Long Beach California and after a day at sea we visited Cabo San Lucas, Mazatlan and Puerta Vallarta.
Day #1 – Embarkation Day (Long Beach, California)
Day #2 – Cruising With Carnival During Our First Full Day At Sea
Day #3 – Cabo San Lucas Shore Excursions
For the first part of our Cabo San Lucas shore excursion we walked on our own 25 minutes to Cannery Beach (Playa Emparcadora) and had a classic beach day. It was super easy to find and was nice to get away from the crowds for a few hours.
We did some snorkelling with our own gear, but mostly just enjoyed the view, soft sand, ocean water, and lounging around in the sun under our Portabrella.
This a fabulous Traveling Islander insider tip because we noticed other Carnival Cruisers paying about $40 a person to be dropped off by boat to the same beach we walked to for free.
We had dreams come true on the second part of our Cabo shore excursion. Gretta actually cried she was so happy. Her lifelong dream to go on a dolphin swim came true! We teamed up with Cabo Adventures who excels in port excursions and made an unbelievable family memory that we'll cherish forever.
Day #4 – Mazatlan Shore Excursion
El Cid Resorts picked our family up right outside the cruise ship terminal and whisked us away for an all-inclusive day at their El Cid El Moro Beach Hotel. The shuttle ride was seamless and we even got a mini tour of Mazatlan along the way.
I can't rave enough about our day with El Cid Resorts. The whole experience was perfection and we wish we could have stayed longer.
Boogie boarding on a family friendly beach, relaxing full-body massage on the beach, Mexican cuisine, poolside drinks for the whole family, kids activities, cliff jumping into the pool, first class service all the way through: these experiences are what made our Mazatlan cruise shore excursion so incredibly relaxing and fun.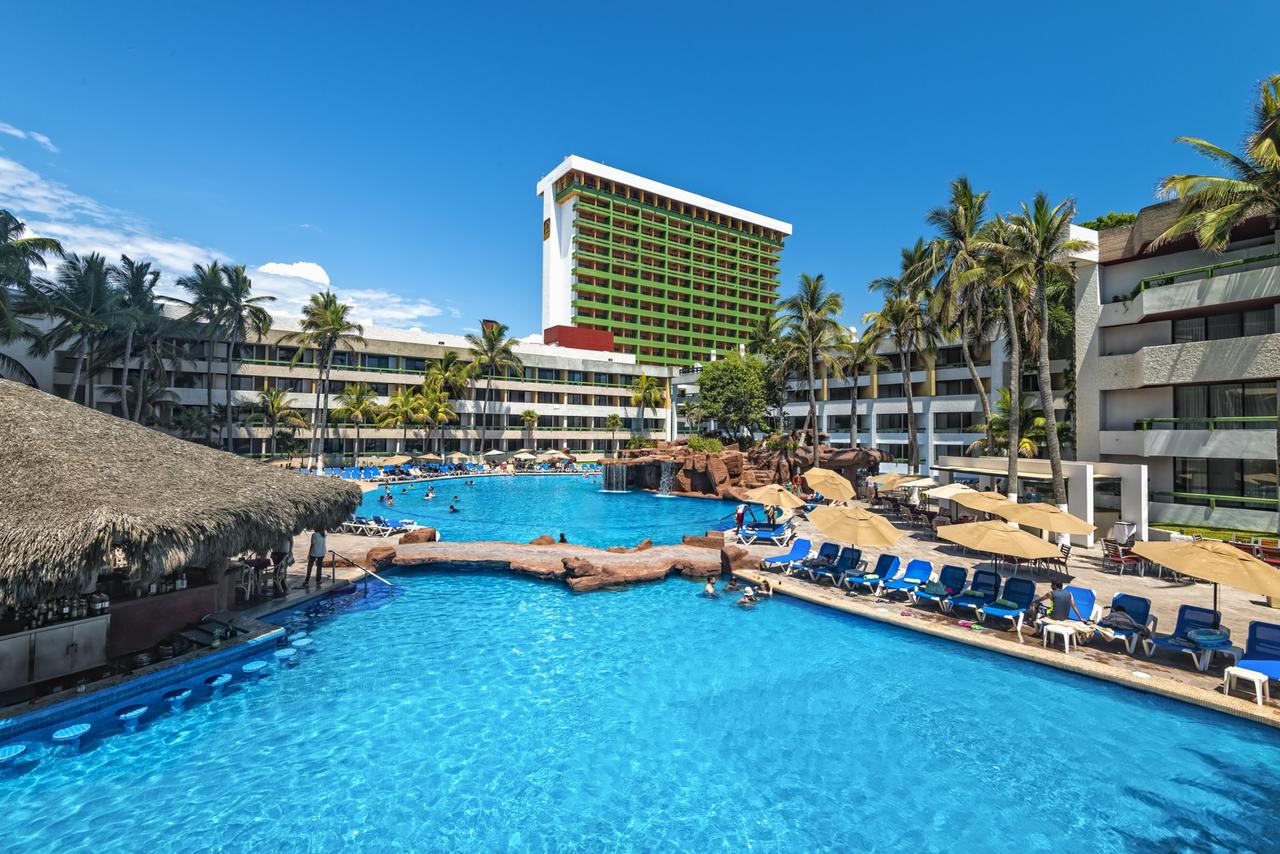 El Cid staff provided the warmest resort hospitality we have ever experienced. Our expectations were exceeded in every possible way.
We give El Cid Resorts the highest recommendation if you're looking for an all-inclusive resort day on your Mexican Riviera Carnival cruise.
Make plans on your own to spend the day at El Cid El Moro like we did or you can book directly with Carnival shore excursions and get special treatment like being first off the ship.
The one difference is that the El Cid Carnival cruise shore excursion takes you to El Cid Marina for your all inclusive beach resort getaway. I hear it's quite nice as well, but we've never been.
Day #5 – Puerto Vallarta Shore Excursion
You can also have a blast exploring and saving some money too by planning your own shore excursion like we did in Puerta Vallarta.
We grabbed a quick 20 minute taxi ride to Old Town Puerto Vallarta for some beach fun and street side tacos. It was a grand adventure that turned out to be one of our favourite port visits.
Traveling Islanders Tip! Be careful with those sneaky taxi drivers parked immediately beside the ship. They will try and convince you to take longer rides unecessarily so they can charge you a higher fare.
Our destination for the day was the "Beach of the Dead" or better known to the locals as "Playa De Los Muertos". We agree, it's quite a weird name for a beach. What's even weirder is we actually chose to go there with our kids! But we kept hearing it was the place to go from a few different vendors beside the cruise ship. Turned out, they were right.
Want to try para-sailing? There were three different companies operating off of the beach. We saw lots of tourists taking off and landing safely all day long.
For lunch try a fish, beef or chicken taco from one of the beachside outdoor restaurants like we did. Our fish tacos were fresh and delicious.
When you've had enough time on the beach, take a stroll through charming Old Town Puerto Vallarta. Here you'll find narrow cobblestone roads, old world Spanish architecture and shops of every imaginable type.
Looking for something different for your Puerta Vallarta shore excursion? Carnival offers over 30 adventurous and cultural Puerta Vallarta shore excursions. Simply book your desired excursion through your Carnival cruise online account and Carnival will take care of the rest. I wish we could do them all!
Day #6 – Cruising With Carnival During A Day At Sea
Day #7 – Cruising With Carnival On Our Last Full Day At Sea
Day #8 – Disembarkation back at Long Beach, California.
There are so many marvellous Carnival Cruise Mexican Riviera shore excursions to choose from! Have fun making those lifelong family memories you will cherish forever!
Thinking of a family cruise of your own? Check out 10 reasons why families love a Mexican Riviera Carnival Cruise.